2005.12.31
More snackblogging, because you know you love it. Seriously.
Found at Candyland in Richmond, which once upon a time had the goodness that is green tea KitKats:
These seem to be one in a series of flavors designed by famous confectioners — at least that's what little I can guess from the packaging. This one's by Takagi Yasumasa of Le Patissier Takagi, a man I saw on television once, creating amazing-looking desserts en route to getting schooled by Iron Chef Kobe in "Battle Strawberry."
Inside the box, fifteen or so individually-wrapped packages, each holding a miniature pink bar. The coating is a white chocolate base imbued with wine, a muscat-like flavor that's subtler but juicier than my previous favorite, strawberry. We've gone through half the box already and I wish I'd bought more than the one. *sigh*
They also had white chocolate KitKats, but no sign of green tea or other flavors, a shame since I'd wanted to stock up.
And since I'm all about the green tea, I picked up these McVitie's miniature green tea digestive biscuits:
They're good, but very leafy in taste — would go beautifully with a hot cup of genmaicha or barley tea, I think, but not so much for dry snacking.
Also, I meant to mention that in Chicago we found those Lay's dill pickle potato chips which I'd previously only seen in Canada. No word on nationwide availability, but that's hope, keep trying!
Oh,
and
Happy new year!
---
2005.11.16
Quiet birthday yesterday, spent mostly at work. Before that had an expensive present as was forced to replace one fireball-spouting garage dweller with something new and non-lethal. Today I've treated myself to Royall Tyler's new-ish translation of The Tale of Genji and Robert Graves' of Suetonius' The Twelve Caesars, and I plan to celebrate with a cup of hot tung ting jade and a comfortable seat, and let the dragon sleep.
Lunch this week's been flavored with spoils from that day-off lunch trip to Salumi (hot sopressata — so yummy). Also, since I know you get all your potato chip-related news here (and you do, don't lie), I feel I should let you know that Tim's Cascade has a new, limited-edition* habañero flavor. The flavor is rich, not as bitter as the well-loved jalapeño, with a heat that sneaks in silently. Shared a bag with friends, and the previous consensus favorite (dill pickle) sat unopened and neglected. Seriously, they were that good!
---
Oh, and should I post more along the lines of "Trilogy"? I mean, since nanowrimo hasn't been going so well…
* I've no idea what this really means, as the
wasabi-flavored variety
, reported on in January, seems to remain readily available.
---
2005.01.31
This will be about snacking.
But it's not like I've been stuffing my face! I've just had these things on the backlog for awhile and now that I'm sick — well, it's as good a time for miscellany as any…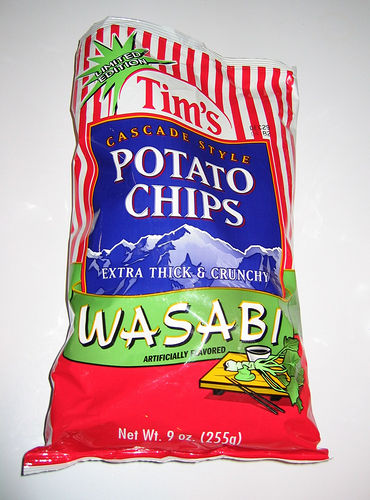 This is Tim's Cascade's latest limited edition variety, which is the Best Thing Ever. Nice amount of sinus-clearing wasabi bite per chip, plus the palpable crunch for which Tim's is known makes for a decidedly different snack! Wish the timer wasn't ticking — but you can still get them right now at most any northwest grocery. Time to stock up?
---
Canada seems to be the place to get the best flavors of potato chips these days. When I was in middle school back in the midwest, I remember that you could get interesting varieties of Snyder's of Hanover chips in vending machines, including salt & vinegar (which was still exotic to me at the time), ketchup, dill pickle, and pizza flavors. Alas, the company seems to have gone pretzel-only and I haven't seen anything like them since on this side of the border. In Canada, though, you can get all that and more! And also these:
Ketchup Pringles! SO genius!
If you haven't tried ketchup-flavored potato chips, you might be recoiling in horror right now. I did too, once. But they're actually wickedly addictive once you get into them (haven't tried dill pickle so far but I can imagine a similar effect).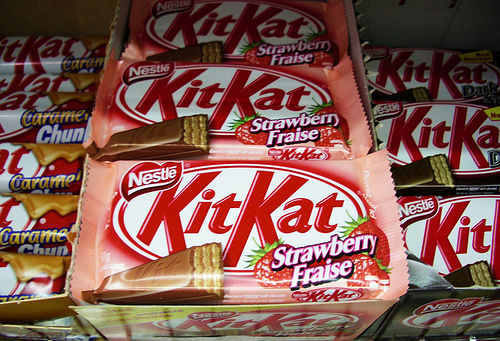 On the candy front, Canadians love their KitKats. White chocolate, dark chocolate, caramel, KitKats of various thicknesses and lengths — they're all available up there. Strawberry KitKats, something like a candy bar made of strawberry and milk chocolate Pocky sticks mashed into a rectangular mold, may just be the best of them all. Yummy!
[Emily tells me there are Green Tea KitKats in Japan. Heavens!]
There are Vanilla Smarties now too!
Seems like I've only been to Vancouver once in the past year, which should be a crime. Looks like I'll either have to change that trend or find a friendly supplier to help me out — but for my sake, only at a trickle! Can't have too much of this kind of good thing, after all.
---
Hope that was somewhat interesting for you. Off to try and get well!
---
2003.02.09
Very enjoyable Sunday evening spent relaxing, snacking on Terra Red Bliss potato chips (v. yummy, with olive oil, sun-dried tomatoes, balsamic vinegar), Pizzetti madrigali wafting from the speakers, and games of Literati with lovely friends. Before that, an elegant choral benefit auction that ended with an unexpected new toy in my grubby little hands, in the form of Adobe Photoshop 7. Please excuse me if I absent myself for a few days to lose myself in aesthetic indulgence!
The Pizzetti pieces, for those curious, are the Due composizioni corali ("Il giardino di Afrodite" and "Piena sorgeva la luna," both settings of Sapphic fragments):
E di fiori di loto come a festa fiorisce il prato;
Esalano gli anèti sapore di miele.

The meadow celebrates with blooms of lotus flower;
And stalks of dill exhale the essence of honey.
The music is simply ravishing; hard to find but worth the effort! This particular recording was by The Esoterics.
Also getting a lot of play of late, besides the aforementioned Flamma Flamma: B.'s gift of Tori Amos's Scarlet's Walk, Pink Martini's "Song of the Black Lizard" (yum, thanks Capodistria!), La Portuaria's "Selva" (via Yogi or Mina, I'm not sure who!), and a whole lot of the Beatles (spurred on by the upcoming release of a sans Spector Let It Be — link via The Laboratorium).
---
Hey rosebaby! I blame you for this drip I.V. filled with Talking Rain Ginger Ale. Especially when I had just managed to get used to Nutrasweet (sigh).
---
Last year's winner of the 5k, a little flash toy "based on a symbol-generating matrix created by [famed typographer] Adrian Frutiger." Frutiger, of course, created the Univers type family, as well as the eponymous face that adorns airport signage around the world. That's all irrelevant, by the way; just go play with the pretty toy!
---
---