2005.01.31
Comments
This will be about snacking.
But it's not like I've been stuffing my face! I've just had these things on the backlog for awhile and now that I'm sick — well, it's as good a time for miscellany as any…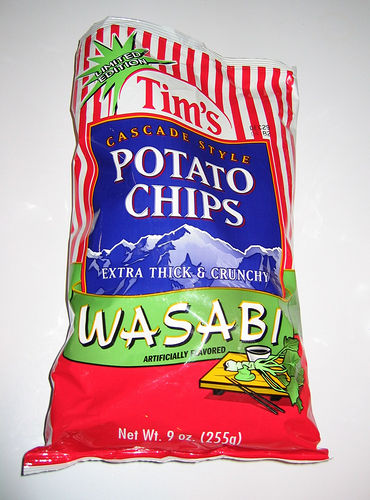 This is Tim's Cascade's latest limited edition variety, which is the Best Thing Ever. Nice amount of sinus-clearing wasabi bite per chip, plus the palpable crunch for which Tim's is known makes for a decidedly different snack! Wish the timer wasn't ticking — but you can still get them right now at most any northwest grocery. Time to stock up?
---
Canada seems to be the place to get the best flavors of potato chips these days. When I was in middle school back in the midwest, I remember that you could get interesting varieties of Snyder's of Hanover chips in vending machines, including salt & vinegar (which was still exotic to me at the time), ketchup, dill pickle, and pizza flavors. Alas, the company seems to have gone pretzel-only and I haven't seen anything like them since on this side of the border. In Canada, though, you can get all that and more! And also these:
Ketchup Pringles! SO genius!
If you haven't tried ketchup-flavored potato chips, you might be recoiling in horror right now. I did too, once. But they're actually wickedly addictive once you get into them (haven't tried dill pickle so far but I can imagine a similar effect).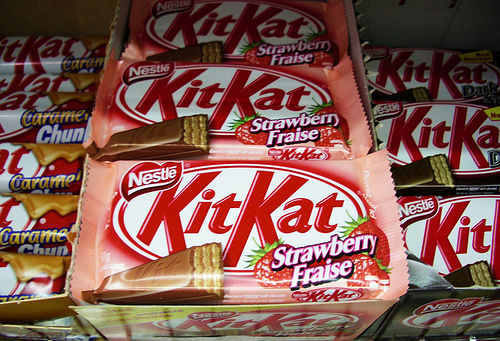 On the candy front, Canadians love their KitKats. White chocolate, dark chocolate, caramel, KitKats of various thicknesses and lengths — they're all available up there. Strawberry KitKats, something like a candy bar made of strawberry and milk chocolate Pocky sticks mashed into a rectangular mold, may just be the best of them all. Yummy!
[Emily tells me there are Green Tea KitKats in Japan. Heavens!]
There are Vanilla Smarties now too!
Seems like I've only been to Vancouver once in the past year, which should be a crime. Looks like I'll either have to change that trend or find a friendly supplier to help me out — but for my sake, only at a trickle! Can't have too much of this kind of good thing, after all.
---
Hope that was somewhat interesting for you. Off to try and get well!
---