2013.01.13
Comments
Returning to the motherlode after a short break. This time our KitKat is from Okinawa!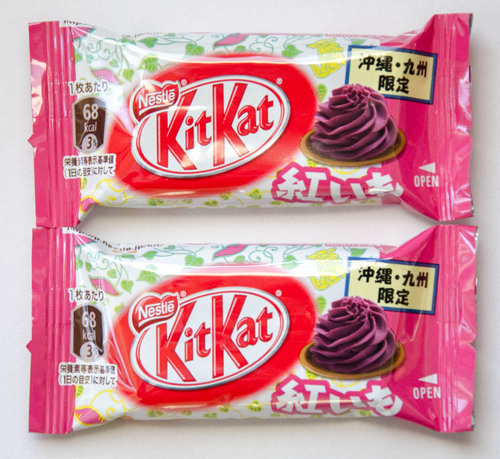 Okinawan Purple Sweet Potato KitKats
So. I have to be honest here, I've never been a fan of those orange sweet potatoes that get roasted at holiday time with syrup and marshmallows and whatever else goes into that nasty casserole dish. I know, I know, I may need to turn in my midwesterner card for this. Yellow sweets? I love. Okinawan purples? Maybe even better. If you've not had them, they look pretty much like other sweet potatoes, only their skins are light-greyish or greyish-brown with marbled white and purple flesh. When they're roasted, the flesh is moist, slightly gummier than other varieties but delicious. Their earthiness sits somewhere between yellow and orange. I put them in the oven, wrapped in foil, until they're done, cut them in half and just scoop out bite by bite with a spoon — no other ingredients needed. Yum! And they're so, so pretty. You can find them at Asian markets; I totally recommend them.
But.
Oh yes, KitKats. Tearing open the wrapper reveals a pale purple, white chocolate coating, melty to the touch. The fragrance has a nice hint of earthiness. I've had sweet potato KitKats before — Satsuma imo, based on a snack made from yellows, candied, and sesame seeds. The purples have a purer flavor, with a good amount of that earthiness coming out in the flavor, which seems quite accurate. They are somewhat sweeter than I like, which may either be Nestle being Nestle or a reflection of how Japanese people like to eat purple sweets. I'll admit I have no idea what that is.
As far as a straight comparison, I think I really liked the Satsuma imo KitKats, while these are enjoyable but mostly just okay. But it's been quite a while. As for the specific tuber I'd like to taste, I'm still hoping someone will send me those elusive baked potato KitKats someday. A girl can dream!
---