2012.01.18
Comments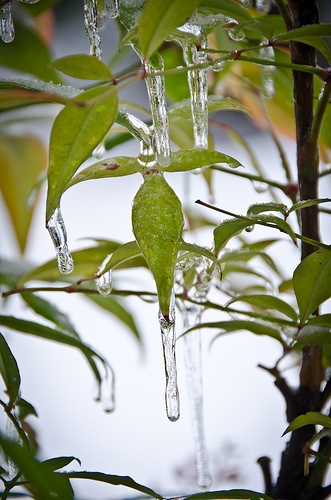 SOPA blackout day; SOPA whiteout day. Not quite the one hoped for, but it was snowy nonetheless. Three days of this has left all of the vegetation around here unhappy, but as is often the case, there's a profound beauty that can be found in unhappiness. I'm not sure I captured it very well.
At this point, I am absolutely stir-crazy. This follows my memory of the 2008 snow-in, which lasted a lot longer than this promises to be — which is good, because the next stage is murderous rage. If the roads are clear tomorrow I'm going to rescue my car and drive and drive and drive, and take pictures of everything but snow.
---
One of my favorite movies, Next Stop Wonderland, is now on Netflix Instant Watch. It's a quirky little rom-com, not to everyone's taste, but I absolutely love it. There was a time when I was watching it once a week to keep me happy! It may entirely be the soundtrack, which introduced me to bossa nova music.
Astrud Gilberto. Elis Regina. Antonio Carlos Jobim.
Also! Philip Seymour Hoffman as the douchey ex-boyfriend!
It's a Starz Play title, so you've only got until the end of February before Netflix loses streaming rights.
Also, while you're there, you can catch my other once-a-week movie of years past, Shall We Dance? — the Japanese one. So good!
---
I had some other links to share, but they're all blacked out right now. Good for them! I never figured out how to both (1) be lazy, and (2) learn how to do it on my site. So I called my congresspeople instead. Did you?
---