2006.07.07
Comments
Followers will recognize a long-standing obsession by the author with exotic varieties of KitKats, so it's no surprise I had to pick these up when I saw them at the duty-free. These are apparently designed to taste like the local Japanese variety of Asia's ubiquitous shaved-ice and red bean desserts, with a green tea & white chocolate coating (seemingly identical to that of regular matcha KitKats), and a red bean creme filling between its inner wafers. The taste is creamy and sweet, much like the dessert — distinct flavors of tea and red bean — but maybe a little too much so! They're good, but I like the standard greens better.
These were 600¥ at Tokyo-Narita for a decent-sized bag of mini-bars.
Also sampled: Häagen-Dazs green tea crispy ice cream cookie — oh, good grief, yes. Sadly, I ate this before an attractive mug shot could be taken. Mustn't let things get melty, after all. Priorities.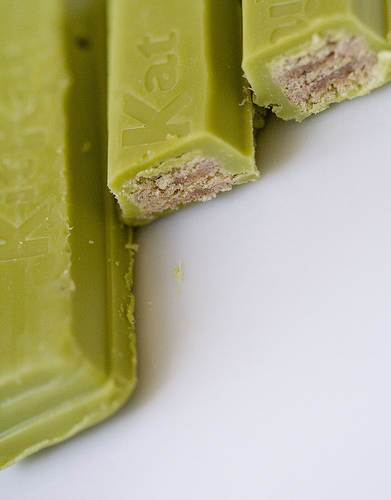 ---