2005.12.11
I'm still alive, but please bear with me. My soul is in little pieces on the floor and I'm not sure who I'll be once I've put them all back together.
In the meantime, you may not be aware of this:
It makes me happy.
Confidential to
Manuel
~ I found the habañero goodies at QFC.
---
2005.12.19
Well, if you've been paying attention to my flickr photostream at all, you've probably sussed out my big secret. I finally have a real camera!
I know some of you lovely folk just want naked facts, so:
I've forgotten how nice it was to hold an SLR and feel the perfect fit of grip-in-hand*, the soft whirr of focus lock & satisfying click-clack of the mirror swinging out of shutter's way. This whole USM thing is new to me, and wow is it fast — now if I could only get anything to come out correctly focused, I'd be as pumped up as Violet Beauregarde. You'd think that would be the least of my problems.
Oh, and I love this macro lens. I could shoot with it forever, even though it's just enormous. Thank goodness for neoprene straps.
*though I know some of you think the XT is too small, for my hands, well: mmmm…
---
Seattle's been in a weeks-long dry freeze, and for the first time since I've lived here I've been feeling as colorless and cold as the weather. Goodness knows I've my share of depression triggers, but I've never really thought myself susceptible to seasonal affective disorder. Still, frosted-over grass day after day is uncharacteristic for wintertime here, and maybe there are shadows of my past at play. It's easy to forget sometimes, but all told, I've been very happy in my years in Seattle, while before that… maybe not so much.
But? Now that all is wet and mild and gray again, I'm finding myself really missing the frost.
Life's funny that way.
Also, tip: rain and brand new camera don't mix so well!
---
2005.12.20
Last week, Mixtura, a new Peruvian/Andean restaurant recently opened in the old Szmania's-Jäger location in Kirkland. While there are three or four entrées on the menu, its emphasis is very much towards small plates — very tapas, heavy on seafood and potatoes. I especially liked one dish, chilled, with creamed blue potatoes, crab meat and smoked salmon, as well as the "lasagna amazonica," a dessert made of layered pineapple sheets, mascarpone and passionfruit purée. The bread course was tasty quinoa baguettes with a collection of sauces. Our biggest disappointment was that pachamanca, so mouth-wateringly described in the P-I article above, wasn't actually on the menu.
We met Emmanuel Piqueras after dinner, shorter than expected but still looking every inch the surfer chef — which was very neat. Mixtura is definitely one to try again.
Speaking of which, there've been many food adventures I haven't really talked about here, because, well, I haven't really been talking much about anything here. Is anyone actually interested?
---
…and then there was that last dry sunset before the rains, a last hurrah at Discovery Park for the photojunkies, hikers, stargazers before the clouds came back for good. People with telescopes were starting to search for comfortable spots in the clearing, but we'd already camped out at the bluff's edge, tripods in position, hiding from the wind behind our coats and scarves. All the while the sky danced in brilliant colors before us, while we snapped pictures in short bursts while our hands went from pocketed warmth to numbness. Somewhere out there, I think I realized why I would miss this weather — while Seattle's perpetual mist is comfortably familiar to me, there's rarely beauty to be felt in it anymore, and certainly no reason to be standing outside in darkening twilight, getting soaked.
But maybe it's time to start looking for the sights in-between. It's too easy to only appreciate life in moments of punctuation, only natural to see things afresh while riding extremes. I mean, how many sunsets were missed because we weren't about to lose them? And even now, what sits invisible, hidden by routine?
All it takes is the right viewpoint, and maybe some numb fingers*.
* of course, this might have been a contributing factor to why none of my pictures came out. Small price to pay for an epiphany!
---
2005.12.25
Whatever you may celebrate during this holiday season, have a happy that… again!
---
Chicago's nothing if not a meat town, and lia insists I meatblog while I'm here. Not sure if I have the constitution for it, but here's a taste:
Portillo's Italian Beef — so bad for you, but so good! Yummm.
Also, walking into a Penzeys Spices store is simply heavenly. I had thought LUSH was the best shop-by-nose experience ever, but this has it beaten many times over (plus you don't get sick of being alive after fifteen minutes inside). Escaped with only some whole cumin & coriander, tellicherry black peppercorns, double-strength vanilla extract and Italian sausage seasoning. Heaven help me if I have time to go back again before flying back to Seattle!
---
Whenever I come home, I have an overriding urge to try and photograph my mother's lovely old canvases which hang around the house, but lighting problems and the near-impossibility of shooting glass frames without getting reflections and glare all over everything have always gotten in my way. This year, with a few acrobatic maneuvers (namely, balancing on a chair while trying to shoot from a tripod on top of a table) and a little Photoshop magic, I managed to snap a few acceptable images of some of my favorites, which I've assembled into a flickr photoset: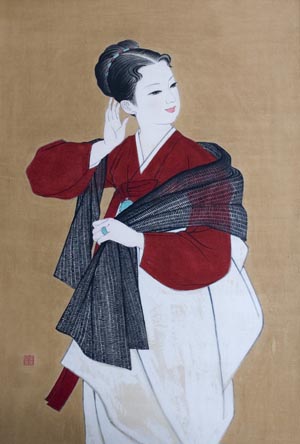 There are a few more I'd like to tackle before I go, and some beautiful pieces which I think are simply too big to capture without a ladder, so this is hardly a complete collection. But I do hope you enjoy them — I've never thought there was anything more beautiful I'd want to have hanging on my walls.
---
2005.12.27
Battlestar Galactica? Time Magazine just named it the #1 television series of 2005, and it so is, it really is. Was a little late coming to it, but holiday goodness combined with a lot of free time has meant hours and hours of catch-up marathoning. Tired eyes, but happy happy — after all, new episodes start this Friday!
(wow, is that Philip Glass I just heard in this episode?)
Update: ooops, that's next Friday. More waiting, I guess.
---
2005.12.29
Oh! I forgot to mention the bottle of sweet Hungarian paprika I also got during last week's trip to Penzeys, which I used in goulash today:
Just beef, onions, potatoes, bay leaves, paprika and salt in this. Oh, and egg dumplings, which were sorry & misshapen, but looks aside everything turned out pretty yummy. Am determined to use the whole cumin next — maybe chili…
---
In other news, New Mexico red chile (or at least whatever's used at the Santa Fe Café in Phinney Ridge) seems to taste almost exactly like 고추가루. Who knew?
---
2005.12.31
More snackblogging, because you know you love it. Seriously.
Found at Candyland in Richmond, which once upon a time had the goodness that is green tea KitKats:
These seem to be one in a series of flavors designed by famous confectioners — at least that's what little I can guess from the packaging. This one's by Takagi Yasumasa of Le Patissier Takagi, a man I saw on television once, creating amazing-looking desserts en route to getting schooled by Iron Chef Kobe in "Battle Strawberry."
Inside the box, fifteen or so individually-wrapped packages, each holding a miniature pink bar. The coating is a white chocolate base imbued with wine, a muscat-like flavor that's subtler but juicier than my previous favorite, strawberry. We've gone through half the box already and I wish I'd bought more than the one. *sigh*
They also had white chocolate KitKats, but no sign of green tea or other flavors, a shame since I'd wanted to stock up.
And since I'm all about the green tea, I picked up these McVitie's miniature green tea digestive biscuits:
They're good, but very leafy in taste — would go beautifully with a hot cup of genmaicha or barley tea, I think, but not so much for dry snacking.
Also, I meant to mention that in Chicago we found those Lay's dill pickle potato chips which I'd previously only seen in Canada. No word on nationwide availability, but that's hope, keep trying!
Oh,
and
Happy new year!
---