2005.12.25
Comments
Whatever you may celebrate during this holiday season, have a happy that… again!
---
Chicago's nothing if not a meat town, and lia insists I meatblog while I'm here. Not sure if I have the constitution for it, but here's a taste:
Portillo's Italian Beef — so bad for you, but so good! Yummm.
Also, walking into a Penzeys Spices store is simply heavenly. I had thought LUSH was the best shop-by-nose experience ever, but this has it beaten many times over (plus you don't get sick of being alive after fifteen minutes inside). Escaped with only some whole cumin & coriander, tellicherry black peppercorns, double-strength vanilla extract and Italian sausage seasoning. Heaven help me if I have time to go back again before flying back to Seattle!
---
Whenever I come home, I have an overriding urge to try and photograph my mother's lovely old canvases which hang around the house, but lighting problems and the near-impossibility of shooting glass frames without getting reflections and glare all over everything have always gotten in my way. This year, with a few acrobatic maneuvers (namely, balancing on a chair while trying to shoot from a tripod on top of a table) and a little Photoshop magic, I managed to snap a few acceptable images of some of my favorites, which I've assembled into a flickr photoset: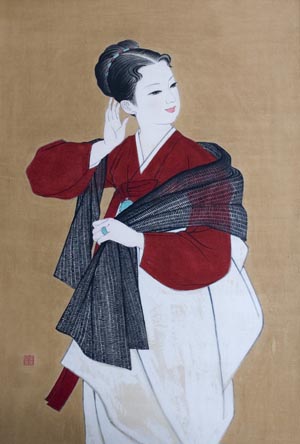 There are a few more I'd like to tackle before I go, and some beautiful pieces which I think are simply too big to capture without a ladder, so this is hardly a complete collection. But I do hope you enjoy them — I've never thought there was anything more beautiful I'd want to have hanging on my walls.
---