2006.03.15
During the Olympics, Comcast added Universal HD to our channel lineup, giving us the ability to watch curling in glorious high-resolution (is it just me, or is curling so the best winter sport ever?). Only slightly lower on the radar was the fact that someone's been ponying up the cash to re-master Knight Rider episodes from original film elements so that everyone can get their Hasslehoff fix in HD with surround sound (same goes for Quantum Leap, though Scott Bakula hardly has the same mysterious allure).
Did you hear that, Lia? Hi-def Hoff!
---
Speaking of curling, season two of Men With Brooms director Paul Gross' Slings and Arrows has started airing on Sundance. Like most things from Canada (e.g. dill pickle chips, BioWare, & poutine), it is goodness.
Bleah, the weather's turned bleak again. I want to go take photos!
* sorry…
---
2006.01.12
Quickies, or what happens when I work too much instead of writing:
Seattle's 25th consecutive day of rain was not an ideal time for my windshield wipers to break. Yuck. And apparently we're closing in on a record with the rain thing, though you wouldn't expect it.
Is it possible for me to tell you that I'm getting addicted to board games without sounding like a total geek? Double yuck.
My poor little laptop is worrying me with lots of loud clicking coming from the hard disk. Yuck!!
But there are good things too: thank you to the lovely person who found my Amazon wishlist and sent me Hard-Boiled Wonderland and the End of the World. Also to the divine quartet who gifted Teavana's tea-of-the-month club, which apparently began in earnest with a knock on the front door this morning. How great is that?
---
2005.12.20
Last week, Mixtura, a new Peruvian/Andean restaurant recently opened in the old Szmania's-Jäger location in Kirkland. While there are three or four entrées on the menu, its emphasis is very much towards small plates — very tapas, heavy on seafood and potatoes. I especially liked one dish, chilled, with creamed blue potatoes, crab meat and smoked salmon, as well as the "lasagna amazonica," a dessert made of layered pineapple sheets, mascarpone and passionfruit purée. The bread course was tasty quinoa baguettes with a collection of sauces. Our biggest disappointment was that pachamanca, so mouth-wateringly described in the P-I article above, wasn't actually on the menu.
We met Emmanuel Piqueras after dinner, shorter than expected but still looking every inch the surfer chef — which was very neat. Mixtura is definitely one to try again.
Speaking of which, there've been many food adventures I haven't really talked about here, because, well, I haven't really been talking much about anything here. Is anyone actually interested?
---
…and then there was that last dry sunset before the rains, a last hurrah at Discovery Park for the photojunkies, hikers, stargazers before the clouds came back for good. People with telescopes were starting to search for comfortable spots in the clearing, but we'd already camped out at the bluff's edge, tripods in position, hiding from the wind behind our coats and scarves. All the while the sky danced in brilliant colors before us, while we snapped pictures in short bursts while our hands went from pocketed warmth to numbness. Somewhere out there, I think I realized why I would miss this weather — while Seattle's perpetual mist is comfortably familiar to me, there's rarely beauty to be felt in it anymore, and certainly no reason to be standing outside in darkening twilight, getting soaked.
But maybe it's time to start looking for the sights in-between. It's too easy to only appreciate life in moments of punctuation, only natural to see things afresh while riding extremes. I mean, how many sunsets were missed because we weren't about to lose them? And even now, what sits invisible, hidden by routine?
All it takes is the right viewpoint, and maybe some numb fingers*.
* of course, this might have been a contributing factor to why none of my pictures came out. Small price to pay for an epiphany!
---
2005.06.05
…dreaming of being a bride | New Haven, CT

Much, much too hot here to write. Not heat, specifically, but awful humidity, thick, wet, like childhood summers back home, thankfully forgotten (though I dearly miss: thunderstorms, fireflies).
Back home tomorrow night, anyone in NYC up for an early lunch in Chinatown? But — who am I kidding? Still jet-lagged and will probably sleep until it's time to leave…
Good-bye, high shoulders, metal earth dwellers, palaces of glass. heart.
---
2005.04.20
Walking weather: too warm for a coat by day, but evenings are still chill, and with constant threat of rain, it's hard to decide what to wear. Trust me to pick the wrong outfit, every time.
Hear New York has hit the 80s — ugh! So sorry, Miranda.
Watched Sideways and am finding I really, really want a glass of Pinot Noir (apparently, am not alone in this reaction). All I have is Riesling, which'll do for now.
---
She lies asleep in a cheap hotel room, legs wrapped around the lone tendril of blanket remaining on the bed. It is midday in Belfast, a hot summer's day; unobstructed, bright rays of sunlight stream through the windows and illuminate the peaceful expression on her face.

The room is a small one, barely enough for the twin bed and the nightstand next to it. The only other piece of furniture in the room is a wooden chair, its presence inexplicable without an accompanying desk, or table. At the moment it serves as a closet; over its back is draped a black, leather overcoat, stylish but outlandishly inappropriate for the weather. Leaning against the legs of the chair is a medium-sized travel bag, locked shut. Next to that sits a small, metal case, the sort that could probably survive a nuclear explosion. In small piles leading from the chair to the side of the bed are various pieces of clothing, haphazardly discarded in the haste to retire.

Outside, a bustling city street, unusually active for a Sunday afternoon. A man with a prosthetic hand is walking three dogs on leashes. A florist leaves his stand momentarily to chase after a customer who forgot her change. The doorman of the posh hotel across the street takes off his cap so that he can wipe sweat off his brow. A minor car accident has blocked traffic, almost directly under the window. Two men exit a limousine which has become caught in the snarl. A faint movement—there, in the alley, but there's nothing. Perhaps a shift in the light, or a random shadow?

She lies on the ratty mattress, sensing none of this, and it is the most comfortable place she has ever been.
---
2002.11.21
In chilly Chicago, visiting the parents, just as an autumnal weather renaissance seems to be occurring in Seattle. Yesterday was brilliant, blue, sunny, warm — no jackets required. I hear similar things about today, but only from a distance; here, it's cold and miserable.
Dad's a doctor, so each new trip home carries with it a treasure hunt in the pile of new promotional product from various pharmaceutical companies. Pfizer seems to have been very generous so far this year, so without further ado, I present to you an abridged tour of the weird, wonderful world of Viagra merchandise: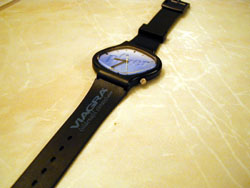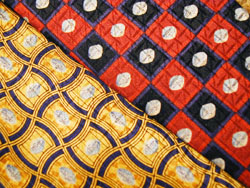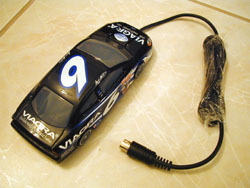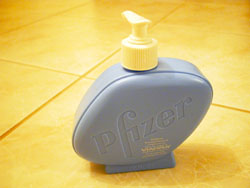 A Viagra watch. Okay, next.
Stylish Viagra neckties. Note the little blue pills, subtle but obvious. I'm going to take these and create a decorative wall ornaments, or maybe stylish belts.
Yes, Virginia, that is a Viagra racing car mouse. It comes with a snazzy matching mouse pad, too.
Viagra. Pump. Viagra. Pump. Is this hand soap, or something… else?
Probably most distressing of all, and not from Pfizer, is this: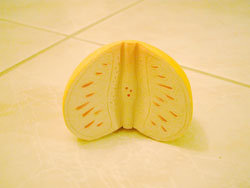 That's right, a squeezy stress toy in the shape of… a cutaway prostate gland. Talk about your conversation starters.
---
2002.10.28
Aromatic manna from the frozen north arrived today into my eager hands, courtesy of Rav. The take, all from Lush: "Breeze on a Sea Air" facial toner ("Made with fresh Hebridean sea water"), Aura Suavis bubblebar (my favorite!), and "Sweet Japanese Girl" facial bar ("Massage and exfoliate your face with this lovely little bar. Wash off and smile."). The aforementioned enabler extraordinaire came into my office at work last Friday to give me a sample spritz of the toner, and that was all she wrote. I was sold.
What passes for winter in the northwest — bone-chilling rains and oppressive, grey skies — has begun in earnest. The three giant plum trees in the front yard have started shedding their bounty all over the grass, so I've been spending a lot of time soaked in the elements trying to clear away the mess. Nothing like an hour spent steeping in warm, fragrant goodness to cure the bad-weather blues.
Heavenly!
---