2005.07.01
Surprised and delighted to discover in my mailbox more lovely freebies from Adagio Teas:
Inside, another box of four 1 oz. samplers to match the first, with infusions of lime, cream, chocolate and "valentines" (mmm, chocolate-dipped strawberries, heaven!).
The gift that keeps on giving!
Am sipping a freshly-brewed cup of the lime as I type — subtle, refreshing, would probably make an excellent iced too. Will likely have to order a real-sized tin v. soon.
In other news, I've begun to foster an intense hatred for this new bathroom scale. Just what everyone needs, a new daily source of despair.
---
You must check out Utata.org right now for all sorts of fabulous goodness, not least of which is: trains!
(But this is Catherine Jamieson's brainchild, so this should be no surprise at all)
---
2005.06.26
---
Have taken a turn for the better, somehow — health crisis averted for now. Still, no sense taking chances, so I spent today mostly sedentary, reading about cherries and felting wool and echidnas, also known as spiny anteaters, the only surviving relatives of the platypus (warning: hatching baby echidna photo). Also started The Diary of Lady Murasaki.
I know it's a horribly romanticized notion with little connection to reality, but I've always thought that if I'd had the chance to choose what era I could live in, that the life of a lady-in-waiting at the Heian court would be very appealing. But then, I've always felt (and have mentioned here before) a special affinity with Sei Shōnagon, planted at an early age. Oh, to have lived in an age of aesthetics! That's the kind of decadence I can get behind. Being able to dress like Queen Amidala would be pure frosting.
I think the charm of tooth-black would wear thin very quickly, though.
---
2005.06.24
I've been so long without pain that I'd almost forgotten — not the twinges and tingles and needles that line my daily existence, but that dull seeping ache which leaks in & drives out all other feeling until there's no longer a line between body and mind, but a single, white-hot flame that cannot be ignored. And oh, I am broken, broken, like Frida and her skeleton of wirework and nails—
But no, I'm not there yet. I can feel it beginning, and I'm afraid.
…
I had meant to write about fireflies.
---
2005.06.21
There's a certain perversity (or is it defeatism?) to walking up to a checkout counter holding a fancy new electronic bathroom scale — complete with body fat monitor — in one hand, and a large bag of Almond Roca candies in the other.
So, a dilemma: which do I open first? Because, so help me, only one is going to see action tonight. This is still irony, not tragedy, after all.
---
By the way, I've had trains on my mind lately: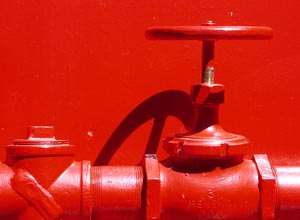 Making Tracks
, a flickr photoset
Secret project — for now!
---
2005.02.06
---
Decided that today was high time to visit Teavana, the new tea store I've had my eye on at the local mall. Why aren't there more places to shop for loose teas? Still, this one turned out to be just what the doctor ordered! Sampled several sips of aromatic goodness, before getting what has to be the most divine tea blend I've ever had — a 50-50 blend of Jasmine Dragon Phoenix Pearl (a green tea variety for when one mythical creature just isn't enough) and vanilla-infused rooibos. Have constantly had a hot mug of it in hand ever since I got home, the sipping of which has left me v. calm and contented.
Have been on a rooibos kick lately, ever since Rav turned me on to a lovely strawberry infusion at a dinner party. Sadly it seems this variety isn't readily available anymore (the closest thing at Teavana was a blend of strawberry-kiwi juice and vanilla rooibos, which was nothing like), but the plain South African red rooibos is a treat in and of itself when it's available (and naturally caffeine-free and loaded with antioxidants!).
Also sampled: macadamia and "tropical" infusions, as well as "monkey-picked" oolong, an unfamiliar but wonderful flavor…
I love finding new and wonderful places to shop! So today is officially a success.
[But when, oh when will we finally see a LUSH in the Seattle area?]
---
On the health front, am feeling better but getting little sleep of late, as certain creative pursuits are occupying my time. Massive productivity is always satisfying, but at what cost..?
---