2013.02.15
---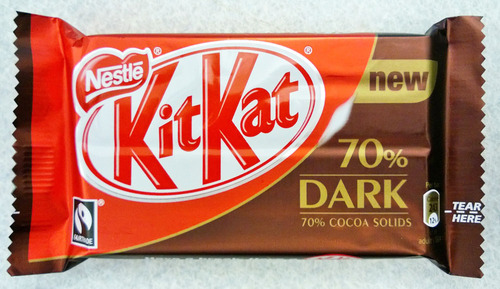 70% Dark KitKats
New from England! I've had regular dark KitKats from Canada and semisweets from Japan, as well as a variety of dark chocolate-based novelty flavors, but this is probably the first time I've had a straight dark chocolate in this percentage range before. 70% is about where I like my chocolate for non-KitKat situations, so I was pretty excited to see these at our local British goods store.
(Incidentally, Dave Kim on Google+ tipped me off to the currently-running 2013 Kit Kat Chunky Champion promotion running in the U.K.. Kind of like the Lay's flavor contest that produced this week's sriracha potato chips, people can vote for their favorite among Mint, Coconut, Hazelnut and Chocolate Fudge. Mint! I've had no luck finding them here, though — Sadface.)
These are four full-size bars in a foil wrapper. After years of Japanese KitKats, I'd forgotten how big the regular bars are! The wrapping is an attractive mix of matte and dark print, and advertises that the chocolate contained within is fair trade certified. Lovely.
The bite is very firm, with a solid, but not waxy texture to the chocolate. Flavorwise, it's a nice and strong with some bitterness (but not too much!), still generously sweet but not cloying. I really liked the rigidity of the bar, which helped reinforce that this was a strong dark chocolate. All in all, I liked these very much.
---
2013.02.13
Listen, I know the bag on the right is the one getting all the attention, but DILL PICKLE LAYS PEOPLE
---