2006.05.24
Feeling better now. Baby steps.
---
From Eureka, another version of the Fat Kreme Burger out in the wild.
---
Vince recommended Richard K. Morgan's Altered Carbon to me, knowing my love of classic John Varley stories and film noir, and it was a fun read. Morgan has the tone of far-future noir down pat, with an intelligently speculative setting and lots of hard-boiled action. If you enjoy the typical noir antihero — aggressive, haunted, misogynistic — then Takeshi Kovacs should be right up your alley; subversive, this is not. But the choking masculinity effectively evokes the ghosts of Mickey Spillane, of Hammet, of Chandler, and more recently, the graphic fiction of Frank Miller*. So! If you're looking for that kind of literary fix, this may be right up your alley.
Directly afterwards, started reading Hard-Boiled Wonderland and the End of the World, which in many bizarre ways is exactly the same book (well, at least as far as I've gotten in it).
* speaking of which, how great is it that they're finally releasing a real DVD of
Double Indemnity
?
---
2003.07.07
As threatened.
Jet calls it the "Fat Kreme a la Stone Cold." I don't know what to call it. I'm not sure I want to be held responsible for giving this any name at all.
One Fatburger, two Krispy Kreme glazed original doughnuts, and one small cup of Cold Stone strawberry ice cream with white chocolate chips. I didn't have the heart to tell him that they've since opened a Jamba Juice next door.
On the other hand, perhaps that's best for everyone involved.
---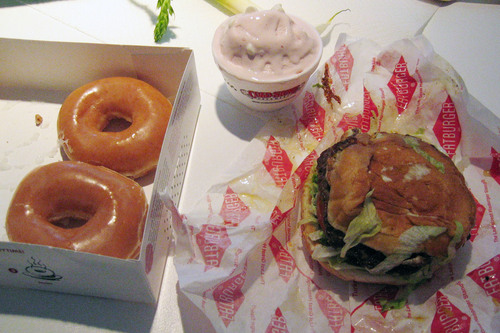 The raw ingredients.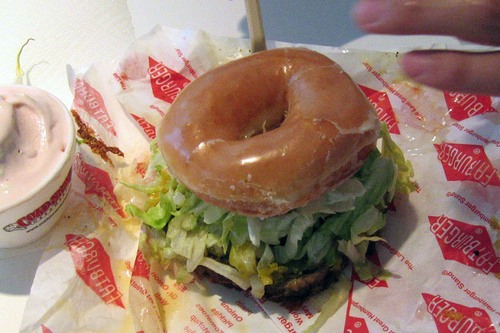 Our old friend, the Fat Kreme.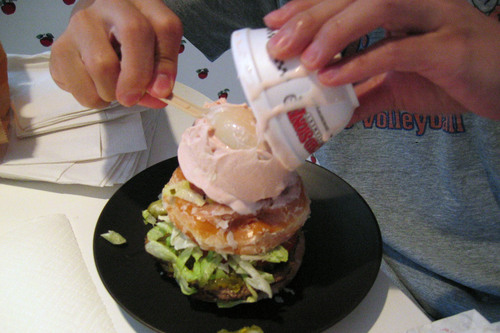 I was imagining a spoonful or two, but apparently Jet has other ideas.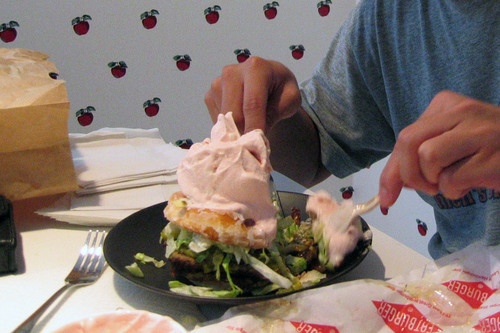 Clearly a fork-and-knife affair. Personally I don't think he wants to touch it.
Nothing complements the taste of a Fat Kreme a la mode like the smooth taste of the Macallan.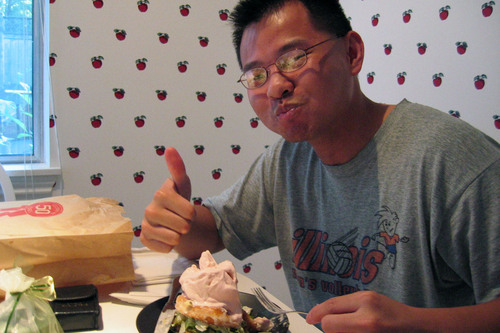 Clearly delirious from the aftereffects, Jet gives the thumbs-up.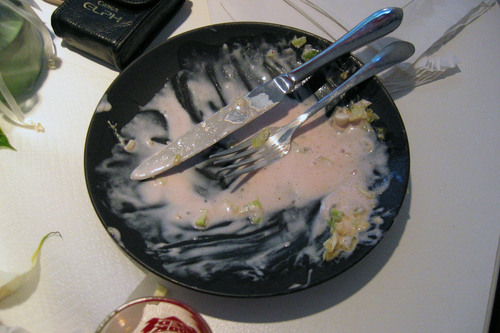 Proof of a kind and loving god at last! It's over.
---
2003.06.20
Have lately frequented the British Pantry, where I lunched fabulously today: Stilton cheeseburger with potato salad and Cock'n Bull ginger beer. Not your typical ginger beer, it's sweet and gingery without much in the way of bite or spice. Oh, I like the sharp stuff too, but this is one marvelous brew. Earlier this week, bangers and mash, and sinfully decadent sticky toffee pudding.
Also at the pantry, I spied a can of "Stahly Vegetarian Haggis." What?? I almost bought it for its novelty value but at $8 a pop, reason caught the better of me.
Speaking of food abominations, a Cold Stone just opened across from the local Fatburger and Krispy Kreme, completing the trifecta of evil.
Fat Kreme a la mode?
---
Jill's my hero, so in her footsteps I present:
Moscow Mule

2 oz vodka
juice from 1/2 lime
4 oz ginger beer

stir vodka and lime juice in a highball glass filled with ice. add ginger beer.
---
2003.05.08
It's been awhile, hasn't it?
I'm the timid type, so when the server started getting hammered by outside linkage to the Fat Kreme Photo Essay, I figured it was best to lay low for a bit. Besides, you never can tell where the hackers are hiding.
Here we go, rapid-fire:
Movies: Le Pacte des Loups was fun. You can totally tell that Christophe Gans is a fan of Hong Kong wuxia films, and there's a real look to this film that evokes the pre-Raphaelite movement. X2 had a lot for a fan of the 80's books to bite into, and set up even more for the next go-round. Also, eye candy. Seriously. Identity was creepy and played with enough intriguing concepts to distinguish itself from the pack, despite uneven direction. Better Luck Tomorrow was much, much better than I was expecting.
Upcoming travel plans: Off to Chicago this weekend for some family catch-up time and other hijinx. The end of the month will see me in New York City, but probably not at Nobu. In between, the docket includes a puzzle hunt, freesia's show, a dinner expedition or two and hopefully some quality time with friends.
---
Meme watch:
---
Apropos of nothing, but something pretty I came upon while web-surfing: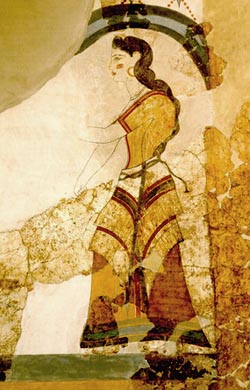 Wall-Painting of Ladies and Papyri (det.)
| 17th-c. BC
(from the
Museum of Prehistoric Thera
, Santorini, Greece)
---
Finally, word is that Ginger Altoids are starting to hit the shelves again, at least in Seattle. Perhaps it'll be a seasonal thing. At any rate, keep your eyes peeled!
---
2003.04.27
Flashback: for no reason other than to fan the flames of infamy, the Fat Kreme photo essay, starring Jet: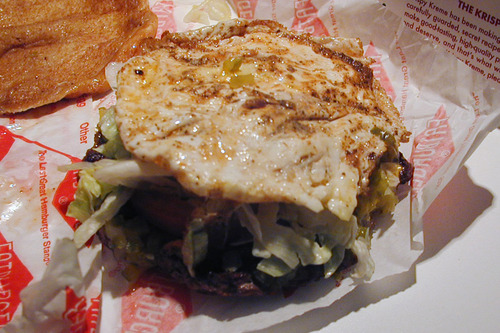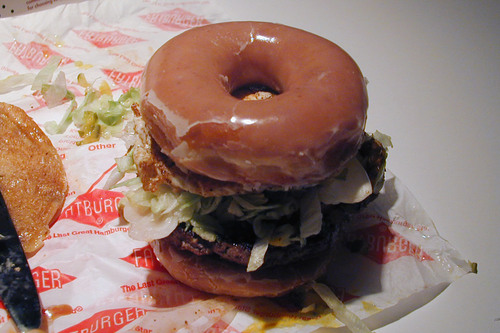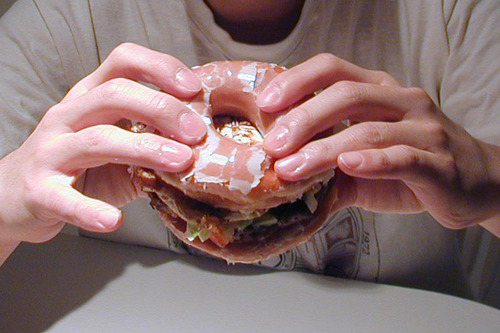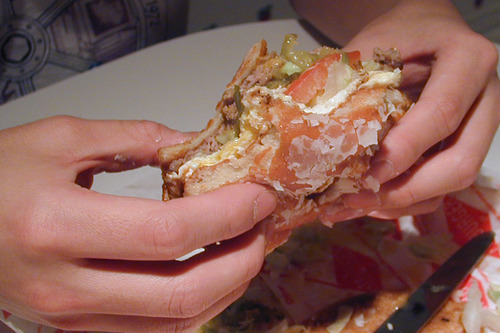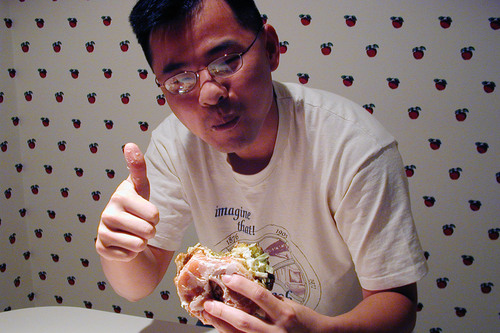 Bon appétit!
---
2003.04.06
Jet came up with the idea of the Fat Kreme Combo back when Fatburger opened its doors in the strip mall down the hill, across from Krispy Kreme. It was a lot more gentle then, and only involved hitting donuts directly after burgers. We should have just done it, because that might have squelched the whole concept before it was allowed to morph into what it did.
e: "Wait, what?"
j: "Take the buns off of a Fatburger and replace them with Krispy Kreme glazed originals."
e: "You've got to be kidding me."
That was a year ago. I was convinced it was a joke (seriously, yuck!), but others apparently thought the concept was "great," and came up with variations on the theme. Freesia invented Krispy Shots, which were surprisingly okay. Jen reported an outing involving Krispy Kremes and In-n-Out burgers. Okay, gross!
Through all this, the Fat Kreme remained blissfully unexplored. Jet, the instigator, kept finding excuses not to do it, still insisting that it would be "awesome" when it did happen. I, of course, knew that it never would.
…until tonight, that is. Behold the creation in all its terrible glory: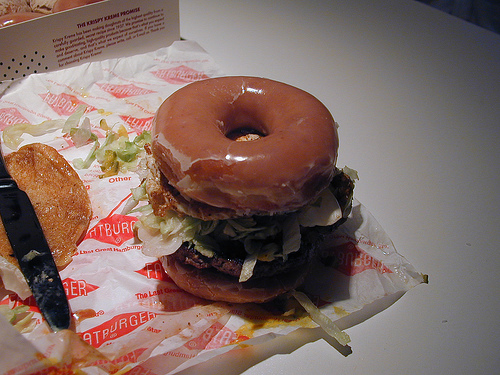 You couldn't have paid me enough to go near the thing, but I have to hand it to him: it wasn't a joke. He ate the whole thing and, apparently, loved it.
---