2003.05.08
Comments
It's been awhile, hasn't it?
I'm the timid type, so when the server started getting hammered by outside linkage to the Fat Kreme Photo Essay, I figured it was best to lay low for a bit. Besides, you never can tell where the hackers are hiding.
Here we go, rapid-fire:
Movies: Le Pacte des Loups was fun. You can totally tell that Christophe Gans is a fan of Hong Kong wuxia films, and there's a real look to this film that evokes the pre-Raphaelite movement. X2 had a lot for a fan of the 80's books to bite into, and set up even more for the next go-round. Also, eye candy. Seriously. Identity was creepy and played with enough intriguing concepts to distinguish itself from the pack, despite uneven direction. Better Luck Tomorrow was much, much better than I was expecting.
Upcoming travel plans: Off to Chicago this weekend for some family catch-up time and other hijinx. The end of the month will see me in New York City, but probably not at Nobu. In between, the docket includes a puzzle hunt, freesia's show, a dinner expedition or two and hopefully some quality time with friends.
---
Meme watch:
---
Apropos of nothing, but something pretty I came upon while web-surfing: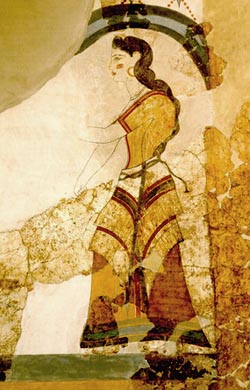 Wall-Painting of Ladies and Papyri (det.)
| 17th-c. BC
(from the
Museum of Prehistoric Thera
, Santorini, Greece)
---
Finally, word is that Ginger Altoids are starting to hit the shelves again, at least in Seattle. Perhaps it'll be a seasonal thing. At any rate, keep your eyes peeled!
---