2006.04.05
Omigosh — time to buy a new computer, I guess!
See you tomorrow, with (hopefully, if the weather's nice) photos from the Skagit Valley Tulip Festival!
…and what's with all the comment spammers coming out of the woodwork lately?
---
2006.04.07
As promised, photos from the Skagit Valley Tulip Festival: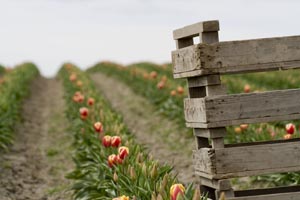 Tulip Festival
, a flickr photoset
This weekend was a bit early for tulip-watching. The show displays at Roozengaarde were pretty and full of color, but the growing fields were sparse at best. In the distance were still-brilliant yellow swaths of daffodils, which might have made for a more typical set of flower-festival photos. Still, I've never been one to seek out "typical," and there were plenty of neat things to photograph after a little searching.
More to come, but for now, I hope you enjoy the photoset!
xoxo
---
2006.04.09
In Boston, and sick, dog sick, a miserable, all-too-familiar stomach sick. Usually I'm spared a day, a few hours, of peaceful vacationing before it pounces on me like an attention-starved cat — but not this time. I blame airplanes: the filthy, filthy beasts. It's being stuck in a tin can for five hours breathing stale air infested with who knows how many strains of thisitis or thatococcus — a ripe agar, these modern comforts.
So I am up & unhappily awake. Elaine Pagels is on television, talking about the Gospel of Judas, which at least is good and fascinating. Half of this National Geographic special is a refresher class after reading The Gnostic Gospels, but I eat this stuff up (and am not presently in any condition to consume much else). Beyond Belief is in my travel case, though I cannot justify starting a book at this hour. Hopefully my body will settle down and I can get some rest, and just in time to travel again, too.
I like traveling. It's the getting there I hate — which is, more or less, the story of my life.
---
2006.04.11
Back in New York, with a seriously flaky internet connection (but yay for a phone that doubles as a bluetooth modem, despite the constant drops), and — a now-slightly-less-flaky stomach!
Had dinner at the Fatty Crab, a Malaysian-inspired eatery in the West Village. Small and uncrowded on a Tuesday night, both the dining room and the dishes were colorful, quirky, and beautiful. Everything was really tasty, but I found myself seduced by the salty-sweet-sour fireworks of the watermelon pickle & crispy pork salad. The fatty duck was nicely seasoned and sat on a bed of surprisingly spicy white rice (only later did I notice thinly-sliced red peppers mixed in). The chili crab was… big, and v. messy. But also good!
Ahem. I'm not really feeling eloquent tonight, so I will just pepper your imaginations with photos:
(…can't say I'm an expert, but I strongly suspect these dishes sit firmly on the "new wave" end of the authenticity scale!)
---
Hsiao-Ching Chou's "You gotta try this" piece in the P-I is mostly old hat, but good lord, does this sound good. And frites! Is there any reason to ever leave Capitol Hill again?
---