2005.09.04
Comments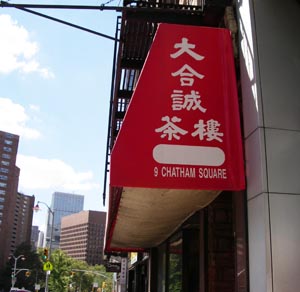 Okay, totally ignore this entry unless you want to know the secret location of the world's yummiest Chinese baked pork buns. They're so good — sweet, soft, filled with a perfect mix of roast pork and caramelized onions. I've been grabbing them greedily on my New York visits for years but until now never bothered to get the actual address down so that I could share with others.
So! It's Chatham Restaurant at 9 Chatham Square, which is Bowery near its intersection with Mott Street in Chinatown. You can't miss it, it's the big red awning near the Subway sub shop. Remember, they're baked — not steamed — so we're talking doughy rather than fluffy, but trust me on this. You won't be sorry.
---
I admit it, I finished Angels & Demons on the plane ride home. It was a light read and it did confirm one thing: that Dan Brown's writing style improved considerably between this and its sequel. Still, that's not saying a whole lot. We're talking huge swaths that read like bad fan fiction:
The Hassassin smirked. He had been awake all night, but sleep was the last thing on his mind. Sleep was for the weak. He was a warrior like his ancestors before him, and his people never slept once a battle had begun. This battle had most definitely begun, and he had been given the honor of spilling first blood.
The writing's worse, but the story is somewhat better, at least until it all falls apart in the endgame. I enjoyed the fact that we're finding our heroes looking for answers at an honest-to-goodness library when the doomsday clock is ticking — though it makes me long for an adventure book starring a librarian rather than a "professor of religious symbology," whatever that means.
I think I'm Dan Browned out for the rest of my life. Jessamyn told me over the weekend that Deception Point was actually a fun read, but it will have to wait. I need to read things where the words are beautiful, at least for awhile.
---