2005.12.29
Oh! I forgot to mention the bottle of sweet Hungarian paprika I also got during last week's trip to Penzeys, which I used in goulash today:
Just beef, onions, potatoes, bay leaves, paprika and salt in this. Oh, and egg dumplings, which were sorry & misshapen, but looks aside everything turned out pretty yummy. Am determined to use the whole cumin next — maybe chili…
---
In other news, New Mexico red chile (or at least whatever's used at the Santa Fe Café in Phinney Ridge) seems to taste almost exactly like 고추가루. Who knew?
---
2005.08.21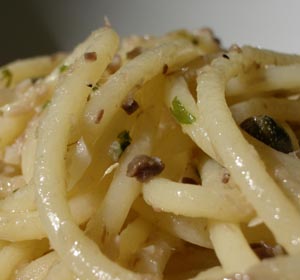 As promised:
1 tin of sardines, packed in water, crumbled
2 oz capers
4 cloves minced garlic
chopped parsley
white truffle olive oil
salt & pepper to taste
3 servings of pasta (I used spaghetti)
Quick, and tasty, despite my ham-handed kitchen technique. I think I'd have preferred a wetter sauce, both to suspend the capers (which tended to fall to the bottom of the dish & are essential to the flavor, I think) and to help with the texture, which was a bit dry. So next time, a little more oil (though probably not all truffle), and maybe some grated parmesan or romano. Also, tinned sardines crumble really easily — originally I sauteed the garlic, sardines, parsley and capers at the beginning but I think I'd reserve half the sardines in larger pieces to garnish the pasta once served, to get a more solid fish texture into the dish.
So it wasn't perfect, but! Everyone posts perfect recipes — I thought I'd post a work in progress. After all, it was yummy, and therapeutic! the best kind of dinner. :)
(also, thanks for all your kind comments, as always — love to you all.)
---