2013.08.10
---
2013.08.11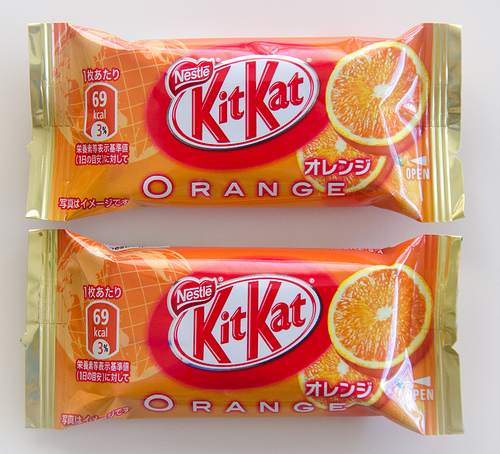 Orange KitKats
This is the first of two flavors in a new World Assort collection from Japan, the other being Hazelnut. Last time we saw a "World" bag of KitKats, it contained chocolate KitKats from three different countries. This time it's two different flavors from Europe, so it's less about comparing the differences between places and more about visiting a different locale's flavors. Not that Nestle Japan wasn't already importing all kinds of flavors from around the world, but it's still a nice concept.
I'm not a huge fan of orange chocolate — usually I find it too cloying, or the chocolate is too dark (I find orange and bitter chocolate to be … well, not exactly bad, but more of a challenge. You know, as opposed to being candy). Also, I'd had Canadian Orange KitKats something like ten years ago and didn't like them at all. So I kept my expectations way, way down.
Luckily, I needn't have worried! These are actually quite yummy. I think the key, actually, is a flavorful orange jam that they've put between the wafer layers. It gives a nice bit of sticky chew along with a strong hit of orange flavor that balances the somewhat nutty milk chocolate coating really well. This is the third KitKat flavor I've had with jam inside and all three have been winners (the other two were Otona no amasa Raspberry, and last week's Otona no amasa Passionfruit). I have no idea if there's even orange flavoring in the chocolate coating, and I wouldn't be surprised if there wasn't. The jam is plenty strong.
Here's a small look at what I'm talking about:
At least they got the color right, amirite? Anyway. These were good! I'm looking forward to the Hazelnut ones as well.
---