2013.07.28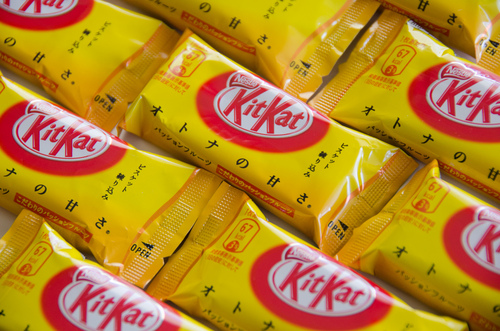 Otona no amasa Passionfruit KitKats
After a long dry spell, a single trip to Uwajimaya yielded three new flavors of KitKats! First, we'll look at the latest "adult sweetness" flavor, which I've been looking for ever since I saw it on a friend's Facebook feed. These are passionfruit, which seems like a good candidate for a series of candies designed to explore adult flavors like tartness and bitterness.
The first thing you notice is the color, a dull dark yellow reminiscent of cheddar cheese or the flesh of a mango, and a nice, fruity flavor wafting out of the wrapper. The bag proclaims that the coating is passionfruit-flavored and the cream contains passionfruit powder, and they're not kidding. You'll have no problem identifying which fruit this is supposed to be, and like the Otona no amasa Raspberry KitKats that preceded these, there's a real tartness here that balances the sweetness provided by the cookie layers and the white chocolate. Finally, those cookies! In addition to giving the bars a nice moist crumble, they leave off with a buttery, malty finish.
Speaking of dry spells, I apologize for being rather absent lately. Things are crazy! And also, beer.
---