2006.09.01
… but it feels like everything is different. Hello, afterwards.
---
2006.09.05
I thought it would be different, after, but I still can't find the words. I've taken to carrying the old moleskine along on my lonely commute in case i happen onto my muse, but so far — no luck.
It's today again. Maybe.
Suppose i can answer a couple qotd's in the meantime: karaoke? Always enjoy singing Sarah McLachlan. or Norah Jones. or anyone else who can transform voice into something altogether liquid. I wish I could do that. My favorite children's movie? Oh, i wish i could narrow something like that down. Well, let's see: I've always had a soft spot for Pinocchio. Majo no takkyuubin gets a nod, as well.
Home-made
poutine
, with roasted sweet potato wedges, chicken-gravy-from-a-jar and beecher's market herb cheese curds. Lovely, mild, warm, homey, tasty.
---
2006.09.14
Paris Hilton's album has been on near constant repeat in my office at work. I'm so ashamed! But it's just so, so catchy — plus you have to admire the sheer audacity required to record an non-ironic cover of Rod Stewart's "Do Ya Think I'm Sexy?"
Recording my dreams again, almost daily; so far this week I've been a wrestling Harajuku schoolgirl, a traveller in a miniature Athens, a visitor in Marrakesh. I've seen a bearded female Hamlet battle a faceless android Laertes on a stage of glowing, red concentric circles. I'm a tourist in my own head these days.
Writing has taken a back seat to Enchanted Arms, but I'm done, finally done, free! And watching Paul Gross and Julie Cox in 20,000 Leagues Under the Sea. Feel undersea myself as rain & cold have returned to Seattle, as they do, and last night went so far as to dream about being aboard a ferry as it suddenly submerged to the ocean floor. Strange convergences.
What will I catch in my butterfly net tonight? I can hardly wait to see.
---
2006.09.17
---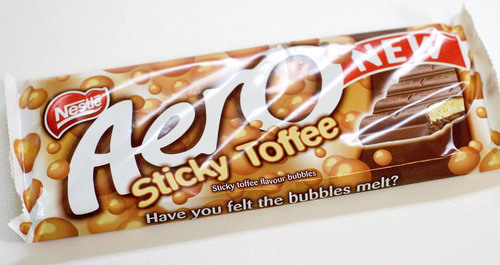 Pretty disappointing, really — far too sweet, and without the cake the sticky toffee loses its magic. And also: the package is just obscene, containing ten bars! What am I going to do with all the leftover sweetness?
In tastier news, cranberry & hazelnut Raincoast Crisps are unambiguous goodness, espcially topped with a good triple cream cheese (ours: Delice de Bourgogne). If only they were cheaper! When your crackers cost more than your cheese, you know you're shopping at Whole Foods…
---
2006.09.19
All candy and no depth lately, it seems. Is it possible to talk one's well of emotion dry? And yet i'm happy, happier than i've been in a long time.
Problem is, i feel guilty saying so.
---