2006.06.26
Comments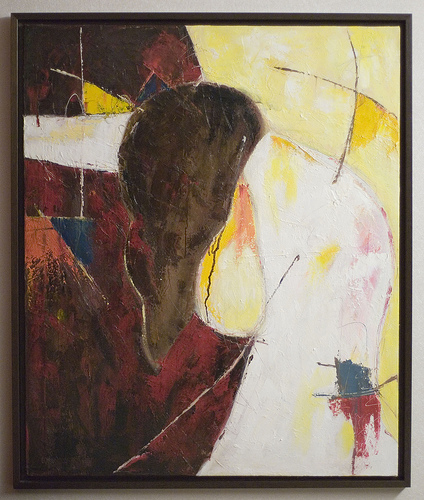 This painting hangs in the hotel room in Kowloon. I find it relentlessly unsettling.

Food here is really, really good. It kind of makes you forget that it's such a sauna outside, that the simple act of walking bleeds out any nourishment received while eating. Thus the routine becomes one of walking between restaurants & sampling the goods. But I've a feeling that this is how one best experiences Hong Kong.
Today was footing it between Tsim Sha Sui and Mongkok, eating dim sum and fruit desserts (I'm in love with the mangoes here — so good!). I'll admit to browsing the clothing racks too. Kowloon is very much urban — at least along Nathan Road, there was no evidence of vegetation and a solid sea of high rises blocked any view of the gau lung (nine dragons) which give the peninsula its name. Amazing how very much New York City's chinatown really replicates the feeling of this place! It's uncannily similar. Am looking forward to visiting Hong Kong Island or the New Territories (tomorrow's goals are Sai Kung and Lantau Island's Big Buddha), where supposedly nature is still much in evidence.
And just so you know it's still me writing — McDonald's report. Have not had the opportunity to sample any of the local dishes, but in addition to containing intriguing-looking dishes like Korean BBQ flatbread and a breakfast ham-and-egg burger, the menu contains something called a Chicken Fan-tastic sandwich. which, if you know any Cantonese at all, has probably already brought an image to your mind. Simply put, it's a chicken sandwich with glutinous rice patties instead of buns. Longtime readers will recognize this as a Neon Epiphany no-brainer, and we'll certainly bring you a report on this important taste sensation as soon as humanly possible.

---