2005.05.15
Comments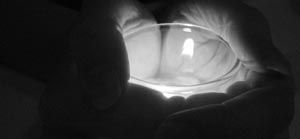 Real 1/2-birthday today, spent lazily at home, one brief moment of weekend rest in a whirlwind month-plus of nonstop travel for weddings, birthdays, and other assorted miscellany. Even had a chance to take an early afternoon nap, that rarest of pleasures — v. heavenly!
Won't go into too much detail about today (some things stay secret!), but instead, some recent observations:
Divine bread/cheese combinations: Great Harvest's rosemary & garlic loaf with Beecher's flagship; also, honey whole wheat (Great Harvest too) and Tintern (wonderful Welsh cheddar with shallots & chives). Poor lactose intolerant me, with my irresistible love of cheese. Love is pain, as they say.
Have also been playing a lot of Dance Dance Revolution (thank you, Cobalt Flux!) lately and I think I'm slowly getting better. I've been passing some seven-footers and passed my first heavy-difficulty song just the other day. Best of all, that after-workout glow is back, and I love it!
Thanks to kakumei, I've been able to try out some foreign DDR releases, and we're totally getting the short end of the stick here in the States. The Japanese version of Extreme is just stuffed to the gills with fun, cute J-pop tracks, while Dancing Stage Fusion — a European release — is more Eurodance-heavy (incidentally, v. surprised & excited to find my television displays PAL video just fine!). DDR Festival seems to be more of a re-import of some of the U.S. tracks back into Japan, but has a few fun anime/J-pop songs as well. Still, nothing beats Dreamcast's 2nd ReMix in my eyes (with all-time faves: "Boys," "Dub-I-Dub," "Butterfly," "Hero" &c.). I miss it so much.
I'm not going to be wowing the aisles at Gameworks anytime soon, but still! Getting better.
The Life Aquatic with Steve Zissou still makes me cry.
Finally, thank you to v. for the pretty pretty!
---
Think I'll finish celebrating with a hot bath and the last of the Lush stash. Love you all!
---