2013.04.25
Dangers abound, in the hallways at work. Couldn't help manufacturing a little drama. Click for full size!
---
2012.02.10
Was hoping to do a photo walk today with friends, but weather got in the way (as it has a habit of doing). Maybe next week!
---
Started playing Kingdoms of Amalur last night, and it seems very promising. It's definitely beautiful, but only two hours in I'm hesitant to make any more judgments. I've been taking a break from video games lately (ever since I took an arrow to the knee, natch), but even if Amalur doesn't take, I'm sure Mass Effect 3 next month will put an end to that.
---
2011.10.04
In a game lobby with a "busy 9inch EGO" and an "ikenpleaseyou." Will probably turn my headset off for this one.
The six pack shirt really drives the point home, doesn't it?
---
2010.11.05
I usually try not to write about work, but…
In February, as some of you may know, I started a hush-hush new job which I had to describe as being "at a local game company working on alternative forms of user input." Yesterday, we finally shipped. And today I woke up to find out that Penny Arcade did a comic based on a feature I wrote!!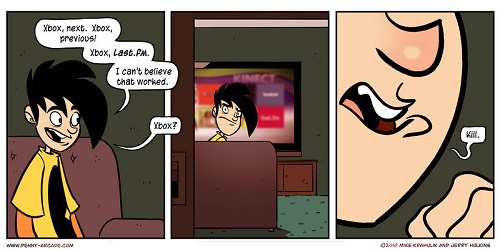 Since this is probably the first and last time that'll ever happen, I'm trying to enjoy the moment. (Okay, I can't take credit for "xbox kill," at least not on the record. But "previous," "next," "last.fm"? I did those!)
Do you have one yet? Here's mine, in a pretty custom box:
In the meantime: Dance Central. End of story.
---
2010.09.20
Day 22: Have probably already said this before, but just in case there was any doubt: I'm on Team Thane.
Romance! Romance is best done in pencils, I think.
I'm a day late, because this took longer than usual. But I've been wanting to do this subject back since day one, so I'm happy I got it done. Mass Effect 3 can't come soon enough, and all I can say is they'd better find a cure, or I'll be an angry panda.
---
2005.05.15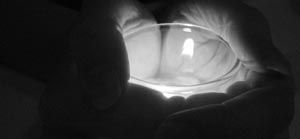 Real 1/2-birthday today, spent lazily at home, one brief moment of weekend rest in a whirlwind month-plus of nonstop travel for weddings, birthdays, and other assorted miscellany. Even had a chance to take an early afternoon nap, that rarest of pleasures — v. heavenly!
Won't go into too much detail about today (some things stay secret!), but instead, some recent observations:
Divine bread/cheese combinations: Great Harvest's rosemary & garlic loaf with Beecher's flagship; also, honey whole wheat (Great Harvest too) and Tintern (wonderful Welsh cheddar with shallots & chives). Poor lactose intolerant me, with my irresistible love of cheese. Love is pain, as they say.
Have also been playing a lot of Dance Dance Revolution (thank you, Cobalt Flux!) lately and I think I'm slowly getting better. I've been passing some seven-footers and passed my first heavy-difficulty song just the other day. Best of all, that after-workout glow is back, and I love it!
Thanks to kakumei, I've been able to try out some foreign DDR releases, and we're totally getting the short end of the stick here in the States. The Japanese version of Extreme is just stuffed to the gills with fun, cute J-pop tracks, while Dancing Stage Fusion — a European release — is more Eurodance-heavy (incidentally, v. surprised & excited to find my television displays PAL video just fine!). DDR Festival seems to be more of a re-import of some of the U.S. tracks back into Japan, but has a few fun anime/J-pop songs as well. Still, nothing beats Dreamcast's 2nd ReMix in my eyes (with all-time faves: "Boys," "Dub-I-Dub," "Butterfly," "Hero" &c.). I miss it so much.
I'm not going to be wowing the aisles at Gameworks anytime soon, but still! Getting better.
The Life Aquatic with Steve Zissou still makes me cry.
Finally, thank you to v. for the pretty pretty!
---
Think I'll finish celebrating with a hot bath and the last of the Lush stash. Love you all!
---
2004.06.16
Is ne(one)piphany turning into a photolog? No, I've just been busy. Also killed my poor router during firmware update shenanigans and no internet access for awhile. I promise to get back on track soon, but in the meantime, enjoy the cute bunny, or seek drama elsewhere.
---
In other news: Ronald Reagan died, which made me feel a little sad as his election in 1980 was pretty much my first political memory. But Peter, of course, says it better. Ray Charles died, which made me feel a lot sad. Harry Potter and the Prisoner of Azkaban was fabby — little Danny Radcliffe is turning into Tobey Maguire (and yes, K. D. Lang). Jet brought a suitcase of Italian Beef from Chicago. Genie immigrated from St. Louis, while Kurt is moving back. Six Apart made things all better. This game is unexpected goodness, and I seem, after all, to have no natural talent for poker.
Finally, I've spent entirely too much time paper shopping, and not enough crafting. This will change soon enough, oh yes.
---