2004.08.25
Comment
Hi! Server's still flaky but I can at least get in through the back-door, or something. So I can stop and chat awhile.
Braved traffic, wind and rain to catch Aimee Mann's outdoor set at the Woodland Park Zoo*, which was (as expected) wonderful. Not the wet and muck, but once we were safely squashed butt-to-butt on tiny, prudently-brought plastic baggies, there was tons to enjoy. Lots of old favorites, and a new song or two. Only wish it'd been longer!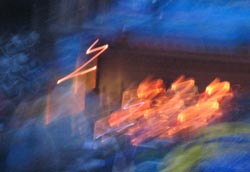 Actually I took a bunch of photos where you can actually see what's happening, but somehow I liked this one. Liquid light.
*total aside: they got zoo.org?! Lucky, lucky!
---
Regarding the last entry, it occurs to me that I've never really talked about flickr before. It really is the greatest photo-sharing service since the world began, and I've used more than a few.
Photosets are a recently added feature. Some favorites, so far:
Also, see FlickrBlog for more, and more often.
---