2003.08.22
Comments
Thank goodness for small victories. Apparently things with my bathroom floor aren't nearly as bad as feared, though there's still plenty of work to be done. Jeff, the handyman who came over on Monday, cut things away so we could get a better look, and the rot is mostly limited to an intermediate layer of particle board. Also, looks like a bad seal at the toilet's base is to blame.
Completely gross was a huge swarm of ants that appeared from nowhere as soon as an opening was made in the floor. Apparently not carpenter ants (phew!), just little guys with a sweet tooth for wet wood. I've let things dry out for a few days and they've all fled elsewhere, but you can see from this photo that they've left a tidy pile of food behind: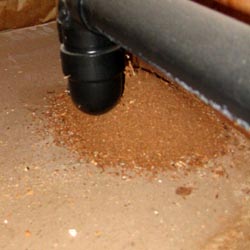 Just to be sure, I picked up some do-it-yourself fumigators at Home Depot last night. More accurate would be "do-yourself," since I ended up fumigating my person quite thoroughly because I panicked and knocked the cup over when it started boiling in my hands (!! seriously, thanks for telling me!). Skittish of chemical reactions, I ran it outside in a hurry, getting loads of insecticide on and inside me. Gack! There's a sickly odor hanging over everything right now, hopefully quickly dispersed now that everything that can be opened to the outside is. It's freezing.
Set off a second, which worked like a charm, I think. Come morning we'll know for sure!
Anyway, looks like we're looking at hundreds instead of thousands of dollars to fix, which is always nice. Getting to pick out a new floor is just a bonus!
---