2003.01.27
Comments
Mission accomplished! Ten yuppie markets, three drug stores, one bookstore and one Safeway later…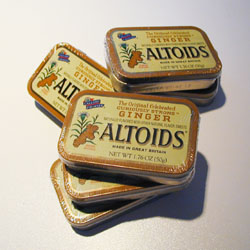 When all else fails, thank heaven… for 7-11, of all places — and just across from work, too! The inventory was untouched, and the clerk looked at me as if I had grown three heads ("Ginger," she said, shaking her head. "I think I like that in teriyaki."). So I rescued the entire stock from the philistines, display box included; some for myself, and some as "thank you" gifts for my diligent operatives. Let those who appreciate the joy of ginger be the ones to hoard it!
Anyway, I feel like I just snapped a picture of Bigfoot. Yay!
And to continue the joyfest a bit: if it wasn't obvious above, apparently my camera has decided to work for me, for this once at least.
(Ah, see? now it's dead again!)
---