2002.08.12
Comment
The problem when you invite fourteen people to a fancy dinner party is that they could all say yes. I love cooking intricate meals, but the thought I might actually have to do so on a scale larger than that typically presented in the C. I. A. cookbook (The New Professional Chef — "Serves 10," "Serves 12," etc.) drove me to one last, desperate act. A cookout.
Why did I ask so many folks? I wanted this to be a kind of housewarming, since I hadn't actually had one (even though Imoved over a year ago). Since B. was over and it was supposed to be a nice weekend, weather-wise, so it seemed the opportunity. For such an occasion, a large invite list is required — my mistake was envisioning a nice, sit-down occasion.
Also, a party/housewarming is a perfect excuse to buy furniture, decorate and clean up!
I'm not handy with tools nor an outdoors type by any stretch of the imagination. I do like to know how things work and can on occasion be successful at fixing things, but just as often, disaster does strike in spectacular fashion. I have, in the past, (a) managed to short out an entire house, (b) set the inside of a wall on fire, (c) gotten a nail stuck in my foot, (d) caused a light switch to explode into flames — no joke! I don't know the first thing about grilling, propane gas, or seasoning a grill, but that wasn't going to stop me from trying.
To that end, I acquired a nice, cheap, gas grill, a replacement cast-iron cooking grate, some other tools & utensils, and about a metric ton of meat and vegetables. Managed to get the propane filled and transported back home without any fireballs. Swept the deck clean and cured the grill. I chopped vegetables while B. marinated burger patties. Waited for people to arrive.
Discovered that grilling is easy!
I know that all of you are shaking your heads right now but it was truly a great discovery for me. I felt like Fleming and those petri dishes.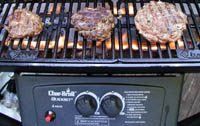 Three sizes of burgers, from left to right: normal (n(e)-style), super (D.-style), and insanity (kakumei and nonours-style)
Not everyone came, actually, but we still had ten people for the cookout. Among bloggers, lish, kakumei were there. Stacy & Darryl brought their adorably puppy Trinity, who played in a little pen on the deck for most of the evening. She does tricks too — the benefits of schooling.
Trinity. So cute!
Trinity even has a web site!
B. bought a Polaroid i-Zone camera at Costco the other day and spent the evening making sticker photos of most of the folks there.
After dinner & and an Austin Powers flick, we all played a long game of Taboo. Stacy managed to get a lot of points using Trinity as the basis for her clues.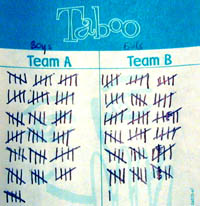 The boys scratch out a win. Boo!
Finally, those few that remained after board games played a few rounds of Dance Dance Revolution with kakumei's modified Dreamcast pads. I have to say it's a lot easier to play when the pads are rigid (in this case, made so with plywood boards). On the other hand, it makes it that much clearer that failure is the fault of poor coordination and stiff movements rather than inadequate controllers :).
That about does it for yesterday's festivities. Fun, but exhausting! Today will be a day of rest.
And here's one other thing: I have enough leftover burgers to last me a lifetime. So I'm safe from starving for the foreseeable future.
---
Paso doble! Finally cracked open my DVD of Strictly Ballroom, at B.'s urging, and watched the film for the first time in about five years. I forgot how much I loved this movie! Like the last time I saw it, I'm finding myself thinking that I need the soundtrack album, but I fear that divorced from the visuals it might not be quite as appealing.
Also… want to take dance lessons!
---
RuPaul has a blog. Did you know that?
Song of the day: "Time After Time," the version on the Strictly Ballroom soundtrack.
---