2002.08.06
Comments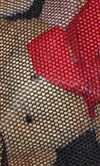 Currently watching Collateral Damage on DVD, a completely silly movie that reminds me of an old 80s flick called Let's Get Harry which I saw on TV as a child, burned for many years in my mind as the worst movie I'd ever seen. This one's not nearly as bad (I mean, it has production values), but the story is vaguely similar and there are plot holes big enough to fly a plot through. Also, it's not over yet, so there's still wiggle room for it to move in either direction.
I'm hoping, praying at this point, that someone shows up later in the film, stands before congress and says:
"It was a rescue mission. But when we found him, he had already been incinerated."
Then there's the question of Arnold's tagline. There has to be one to close the film, you know. Personally, I'm hoping for "insufficient collateral."
---
Somewhere, I think Miranda is smiling.
Had a really tasty Thai dinner tonight, at Chantanee in downtown Bellevue. I'd been there once before but on that occasion played menu roulette and came out on the (slightly) losing side. This time we had a guide in Rob, B.'s old friend from the consulting days, and the results were much better. For the benefit of those who may follow: angel wings, crispy garlic chicken, larb, even the phad thai… So yummy! Now I can say this is the best Thai I've found in the area (I can't count Wild Ginger since it's not strictly Thai).
---
In other news, there doesn't seem to be a single copy of the new Star Trek II DVD anywhere in the Seattle metro area. Very unhappy! On the other hand, the preview footage from The Two Towers and the extended edition of The Fellowship of the Ring on the FOTR DVD (also released today) is just so deeply cool.
---