2002.07.24
Comments
More recent events, freed from chronological constraints.
---
Visit linh's journal for some HOT NEKKID LIVE FOOTAGE of FKB performing at the Kendall Cafe last Sunday. What? You don't want to see that? What if I said I was lying about the nudity? Well, sure, your dinner's already ruined, but that doesn't mean you shouldn't see the video. So go download it already!
---
For those worried about Maurice, I've been assured that it was all a misunderstanding and definitely "not what it looked like." Needless to say I'll be keeping close tabs on things for awhile.
---
There's always something, part I
point:
I sliced my thumb open. With a bowling ball.
counterpoint:
Okay, okay, if you've ever seen me "bowl," you might think that this wasn't much of a surprise. Seriously, it always looks and sounds a lot worse than it feels. My theory on this one is that it was a moisturizing issue. You know, dry skin breaking due to sudden stress and all that jazz. Anyway, just a little blood and not much pain; it happened early and didn't prevent me from eventually bowling well on my last game.
Actual sign at the alley: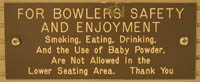 Crazy bowling night was just one of a series of celebratory fetes in honor of visiting celebrities nenie and rog, in town simultaneously by coincidence and brought together by conspiracy (having never met before the previous night's dinner at JaK's in Issaquah). To add to this sheer spice, Stacy came all the way up from Portland! Festivities were planned by lish and a veritable who's who of Seattle's theater-blog community turned up as well: sonjet, sgnp, SafetyCowboy, benlau, ZZZ. Also, other folks whose names I can't remember (terrible with names, sorry!) but all of whom somehow had the initials J. and D. No evening's complete without J.D., after all.
---
There's always something, part II
point:
I left my cell phone on a table at a BBQ restaurant.
counterpoint:
You'd forget worldly things like cell phones too, if you'd just had as orgasmically good a meal as Jones BBQ's beef brisket sandwich, potato salad and collard greens, down in the Central District. Am no expert on the south, but have it on good authority that this was damn fine eatin' (and tastebuds don't lie).
Mark this one up as nenie's last Seattle hurrah; he, lish, and their friend Andrew (whose wise words led us to this mecca) met me there, where we spent some time devouring good eats and talking about, well, Andrew, who without a doubt was the most interesting person off all I met last week.
Get this, he works as a private investigator. How cool is that? He drives an olive-green Chevelle that has its own dedicated soundtrack. If tales are to be believed, he once made a tidy profit as a beverage distributor despite having no warehouse space and no distribution mechanism. Also, how many people do you know who stole cable tv and had it result in a job offer from the cable company? And I'm only scratching the surface here!
As for misplacing the cell, that story's not so interesting. The gang convinced me to follow them up to a bar in Capitol Hill, and like a fool I lost them at Broadway & Madison. Lo and behold, when I tried to call them, no phone. In a mild panic, I drove back down to Jones, and luckily it was still sitting on the table (fortunately, we'd been eating outside, because the restaurant was long closed!).
---
Pure, unadulterated evil
Krispy Kreme has brought back the triple chocolate doughnut. Despite my earlier rant, these are really, really yummy. Argh! Evil!
---
Coming attractions?
Tomorrow I'll update you on the search for quality lawncare in Seattle. Or, if that doesn't pan out, I'll tell you about my days working as a chambermaid in rural France.
---