2005.05.05
Comments
Found in my inbox, a happy 1/2 birthday gift from Miranda:
…and inside: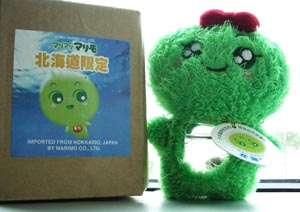 かわい~!
Inside mari mari marimo's tummy is a cork-stoppered glass jar containing water and a blob of marimo (毬藻), which is an algae found in Hokkaido.
Found this flickr photo by meg scheminski, who says:
Hokkaido is algae-obsessed. These algae balls grow in abundance at the bottom of a few lakes here, and the native Japanese (Ainu, like our Native Americans) worship them. Everywhere you go in certain parts of Hokkaido you can buy marimo in jars, marimo stuffed animals, marimo keitai jinglers, and on and on. […]
Wikipedia's entry on marimo contains this tidbit:
It is said that if you take good care of the plant, it will make your wish come true.
Oh, I really hope my wish comes true! Still, knowing my luck with green things (and the rather complicated instruction sheet that accompanied the gift) I'm more likely to end up with a jar of dead algae* than my heart's desire. Miranda says I can always put some other pretty thing in the jar if worse comes to worst. Jellybeans, maybe.
Anyways, happy 1/2 birthday to me!
*dead algae charged with supernatural energy, I might add, so I also have to fear the possibility of some terrible and vengeful curse.
---