2005.04.24
Comments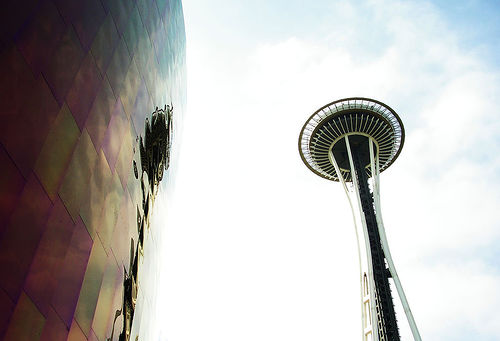 Losing one's rationality is a terrifying feeling. There have been moments, recently — walking through the sunny city streets, or gazing at dew-spotted flowers fighting the breeze — where I can feel reality beginning to slip. The world changes, and it becomes easy to believe that with one lapse of concentration, just the tiniest of nudges, that the waking dream would take over, with no past, no future, no consequences…
And sometimes, there are moments of clarity, where things burst into brilliant focus and I know exactly who I am and I am who I want to be, and the sun is brilliant against the glass and metal of Seattle without blinding, and the wind blows coolly through my hair, bringing flying petals which paint the world in color: streets, cars, trees, people, buildings, life — everything! — beautiful, beautiful, and beautiful.
But these are just two faces of the same coin, and for just an instant before the beauty fades, the old fears return: is this the biggest lie of all? And it's gone, gone, a thousand years gone, leaving just a memory of one barely remembered, perfect moment of… sanity? madness?
But see? I'm back again.
---