2005.03.20
Comments
Explored the new Seattle Public Library central library building today — my first time! Can't believe it took me almost a year to get there. The building itself is amazing, playfully chaotic but totally self-consistent. You could lose yourself for hours just exploring the twisting spiral, whimsical furniture, and soaring lines before realizing you've forgotten to pick up a single book!
I totally recommend a visit, but in the meantime feel free to browse my flickr photoset below. You won't get the whole, wonderful experience but hopefully it'll whet your appetite: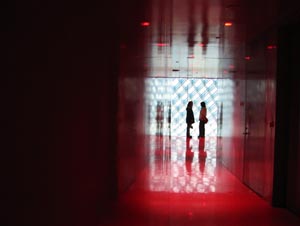 Photoset:
Seattle Public Library
---
In other news, flickr got bought by Yahoo! — congratulations, guys! You totally deserve it.
---