2002.08.18
Comments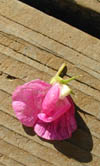 Special fun & games session in Seattle to celebrate grimm's visit.
I went to the ______ Kinko's to buy new blank business card-sized cards and the man there tried to charge me $506.50 for 500 of them (1 box). A dollar a cut! Now, we bought our last box at a Kinko's (different location) for less than $20, so he was obviously trying to fleece us. But come on! If you're going to reel someone in, quoting an insane number like that isn't going to fool anyone. I don't know what I'm more insulted by: his attempt to scam me, or his ineptness at doing it.
Anyways, that was the beginning of the day. Friends, conversation, a bit of playful frolicking in a playground on a beautiful day, and then — yum! — raw tuna at Chinoise have turned things around quite effectively.
---