2013.02.15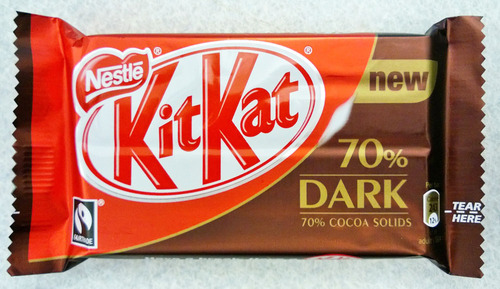 70% Dark KitKats
New from England! I've had regular dark KitKats from Canada and semisweets from Japan, as well as a variety of dark chocolate-based novelty flavors, but this is probably the first time I've had a straight dark chocolate in this percentage range before. 70% is about where I like my chocolate for non-KitKat situations, so I was pretty excited to see these at our local British goods store.
(Incidentally, Dave Kim on Google+ tipped me off to the currently-running 2013 Kit Kat Chunky Champion promotion running in the U.K.. Kind of like the Lay's flavor contest that produced this week's sriracha potato chips, people can vote for their favorite among Mint, Coconut, Hazelnut and Chocolate Fudge. Mint! I've had no luck finding them here, though — Sadface.)
These are four full-size bars in a foil wrapper. After years of Japanese KitKats, I'd forgotten how big the regular bars are! The wrapping is an attractive mix of matte and dark print, and advertises that the chocolate contained within is fair trade certified. Lovely.
The bite is very firm, with a solid, but not waxy texture to the chocolate. Flavorwise, it's a nice and strong with some bitterness (but not too much!), still generously sweet but not cloying. I really liked the rigidity of the bar, which helped reinforce that this was a strong dark chocolate. All in all, I liked these very much.
---
2003.06.20
Have lately frequented the British Pantry, where I lunched fabulously today: Stilton cheeseburger with potato salad and Cock'n Bull ginger beer. Not your typical ginger beer, it's sweet and gingery without much in the way of bite or spice. Oh, I like the sharp stuff too, but this is one marvelous brew. Earlier this week, bangers and mash, and sinfully decadent sticky toffee pudding.
Also at the pantry, I spied a can of "Stahly Vegetarian Haggis." What?? I almost bought it for its novelty value but at $8 a pop, reason caught the better of me.
Speaking of food abominations, a Cold Stone just opened across from the local Fatburger and Krispy Kreme, completing the trifecta of evil.
Fat Kreme a la mode?
---
Jill's my hero, so in her footsteps I present:
Moscow Mule

2 oz vodka
juice from 1/2 lime
4 oz ginger beer

stir vodka and lime juice in a highball glass filled with ice. add ginger beer.
---