2009.04.04
Say what you will about her, but Giada De Laurentiis's orzo salad recipe is a winner every time.
---
2005.08.21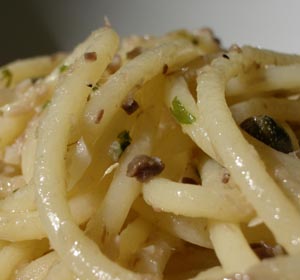 As promised:
1 tin of sardines, packed in water, crumbled
2 oz capers
4 cloves minced garlic
chopped parsley
white truffle olive oil
salt & pepper to taste
3 servings of pasta (I used spaghetti)
Quick, and tasty, despite my ham-handed kitchen technique. I think I'd have preferred a wetter sauce, both to suspend the capers (which tended to fall to the bottom of the dish & are essential to the flavor, I think) and to help with the texture, which was a bit dry. So next time, a little more oil (though probably not all truffle), and maybe some grated parmesan or romano. Also, tinned sardines crumble really easily — originally I sauteed the garlic, sardines, parsley and capers at the beginning but I think I'd reserve half the sardines in larger pieces to garnish the pasta once served, to get a more solid fish texture into the dish.
So it wasn't perfect, but! Everyone posts perfect recipes — I thought I'd post a work in progress. After all, it was yummy, and therapeutic! the best kind of dinner. :)
(also, thanks for all your kind comments, as always — love to you all.)
---
2003.06.20
Have lately frequented the British Pantry, where I lunched fabulously today: Stilton cheeseburger with potato salad and Cock'n Bull ginger beer. Not your typical ginger beer, it's sweet and gingery without much in the way of bite or spice. Oh, I like the sharp stuff too, but this is one marvelous brew. Earlier this week, bangers and mash, and sinfully decadent sticky toffee pudding.
Also at the pantry, I spied a can of "Stahly Vegetarian Haggis." What?? I almost bought it for its novelty value but at $8 a pop, reason caught the better of me.
Speaking of food abominations, a Cold Stone just opened across from the local Fatburger and Krispy Kreme, completing the trifecta of evil.
Fat Kreme a la mode?
---
Jill's my hero, so in her footsteps I present:
Moscow Mule

2 oz vodka
juice from 1/2 lime
4 oz ginger beer

stir vodka and lime juice in a highball glass filled with ice. add ginger beer.
---