2008.05.05
Terribly disappointed by the movie version of The Golden Compass. The whole thing was cut like a highlight reel — all action, zero contemplation — with scenes (such as in Mrs. Coulter's lodgings), presented as actual montages, chirpy music and all! How one is supposed to be able to form an emotional reaction to this material in spite of all this is a mystery! The terrible dialogue didn't help much, either. Was somewhat hoping for a make-up kiss of sorts when Daniel Craig would do his "thing" at the end, but then the movie just ended. Pffft!
Interesting that the US version credits "Northern Lights" as the original source material, as I'm not aware of its having been printed here under that name. Am pleased by that, of course — you're looking at the woman, after all, who special-ordered the first Harry Potter movie from Canada in order to get her philosopher's stone fix.
Am working my way through all six hundred-odd pages of Absolute Sandman #1, and have come to the realization that I'd really like to draw a comic myself. Just one page would be enough. Maybe one of these days…
It's May, and Seattle is sunny at last, & plastered with pink: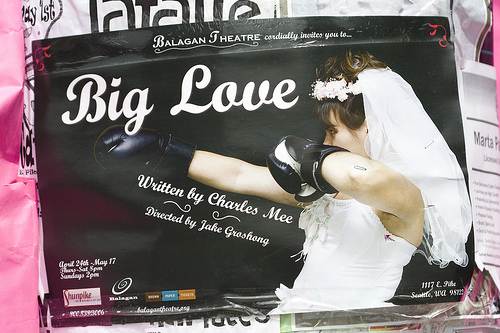 Here's to our first snow-free month of 2008. Please?
---
2008.05.06
French fries with smoked tea finishing salt. Mrowr.
---
"…you grill it until the [mortadella] is nice and crispy, and when you put the bundle in your mouth… well, I believe Martha Stewart nearly had an orgasm the other day when I was on her show, and that is a blessed thing."
"There's a trend in Italy toward fast food, because teenagers don't want to have to eat perfect tortellini every day for dinner. What the fuck are they thinking?"
On Iron Chef America: "You don't have to beat someone all the time, but it's certainly better than losing to them."
He was personable, though clearly in a rush. Appreciated his healthy disdain for Sandra Lee's Semi-Homemade — he didn't even bother to get the name of her show correct (making fun of Food Network's desire to get you to buy Cool Whip & strawberries: "I don't get that show. Almost Homemade? But she's very popular.").
Those orange Crocs did not work at all for me in person. At. All.
He's still my favorite, though.
---